1. Do Your Research
At some stage during the planning of your trip, you and your travel agent will have looked at temperatures and weather conditions to expect while you are away. Something important to note for skin care, are the humidity levels. The more humid the environment, the easier it is to keep your skin hydrated and soft (there is moisture in the air). The less humid, or the drier the air, the harder it is to keep your skin hydrated so you will need to soak more and up your moisturiser. This will tell you what kind of moisturiser to bring along.
We have Janesce Glow Packs containing travel size products that last around 2 months. This is not only a great way to trial janesce if you're new to it, but also to have the perfect size skin care for travel!
TIP: Start using your chosen moisturiser 2 weeks before your trip so your skin can adjust in advance. Don't forget your skin is two weeks behind what is happening in the environment (that's why your skin feels dry after that first winter cold snap!).
2. Hydrate, both inside and out! 
Avid reader's will know why hydrating your skin is so very important. If you're new here, make sure you have read the first and second most important lessons of skin care.  Hydration encourages your skin to be strong – it is more able to cope with things like environmental stress, and other products (like skin care or makeup). It will also help slow the ageing process.
Hydrate from the outside:
Soak your skin in warm water, using a soft cloth. Press the gently wrung cloth over your face and neck, for 20 seconds. Re-soak the cloth and repeat 5 times, the more the better for your skin. After saturating the top layers of your skin with water, LOCK IT IN with your concentrated moisturiser or facial oil. If you don't lock it in, you're wasting your time soaking.
TIP: start doing this as soon as you read this, or at LEAST one week prior to your flight.
Hydrate from the inside:
Up your water intake before your flight to ensure your body is at it's optimum level of hydration. Add a slice of lemon, cucumber or mint to water for extra taste - lemons are great for giving an added boost of hydration from the inside. Don't forget, alcoholic and caffeinated beverages are dehydrated for the skin, so this can counteract all your efforts. Try herbal teas; green tea is always a favourite!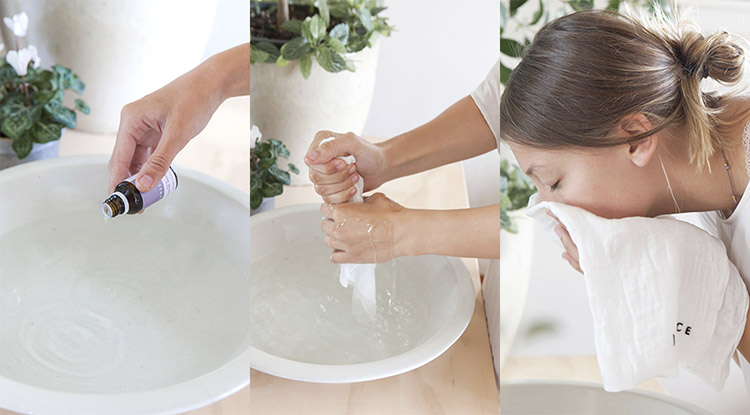 3. Protect from the new environment
Make sure you protect your skin with both a moisturiser (to lock in the hydration) and a sun care product or two (to protect from the sun and environment).
If you leave your skin to dry on its own with nothing to lock in the moisturiser, you risk causing your skin to become very dehydrated. This may also happen using lower quality skin care brands.

Janesce Sun Care Lotion is perfect for use all year round, as an accumulative product. It's a little different to usual sun care products but it is my favourite sun care product BY FAR. It's a plant based sun care product that will saturate your skin in anti-oxidants, protecting against sun damage in a different way to your SPF products. The high anti-oxidant levels also makes it very anti-aging. Suncare Lotion's effectiveness increases over 7-10 days of continuous use.

Still use an SPF product over the top, and make sure you are re-applying and following all other Sun Smart Rules.
TIP: After applying the Janesce Sun Care Lotion, leave for 5 minutes before applying your SPF product. Use everyday, even when it's not sunny outside. Use the 7-10 day rule: Apply every day for 7-10 days before sun-exposure, then every day after that to prepare your skin.
4. Keep it clean
Cleansing your skin is recommended to remove the daily build up of pollutants and makeup products. At the end of each day, impurities will have built up on your skin. It could be perspiration (sweat), dirt, pollution, makeup, or skin care products. If you don't cleanse – this could cause a build up of these impurities, which can further irritate and cause problems with the skin. This is especially important while travelling as you'll be in a different environment to home, and your skin will not be used to coping with this. Help your skin cope as much as you can!
Don't use makeup wipes, they will dry out the skin further.
TIP: Cleanse in the evening only, not morning. Once a day is enough. Don't over exfoliate your skin or it can strip the skin and cause an imbalance. Soak your skin after you cleanse, and make sure you lock all the beautiful hydration in with a concentrated moisturiser.
5. Book a facial for when you return
Your skin therapist is the best person to go to for skin related concerns/advice. After the travelling and the dry flights, your skin therapist is the most qualified person to rehydrate and rejuvenate your skin. That's where we come in!
TIP: Better yet, have a facial before your flight to boost your skin and hydration levels, it will also PRE-relax you and put you into a holiday mode. We're all busy people! It will cut down on the time it takes you to unwind and start to enjoy once you get there! It is also a great time to have any skin care questions answered.