The Janesce Daily Ritual for Skin
By Hannah
5/23/2022
The Skin Soaking Ritual
'WET THE SKIN'
This is a conditioning step to rebalance and awaken your skin, encouraging direct skin hydration and deep absorption of herbal actives. This is achieved by the Janesce soaking method, concentrates and mists.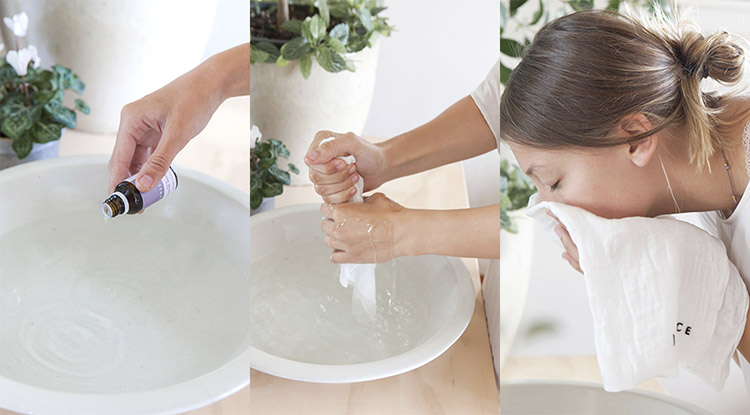 STEP 1: Condition
Soak Your Skin
In the morning you are encouraged to soak your skin with water and plant essences (Janesce Soaking Drops). This step is vital and offers your skin many benefits. Soaking gently rinses away impurities, encourages direct skin hydration and maximises your skin's ability to absorb the plant's active ingredients, supporting your natural protection.
Partially fill your hand basin with warm water / Add a few drops of rose or lavender Janesce Soaking Drops and take several deep breaths, enjoying the therapeutic fragrance.
Immerse your Janesce Soaking Cloth in the warm water, wring out excess water and press the damp cloth to your face and neck area / Take five slow, deep breaths / Repeat several times to ensure your skin is fully hydrated
STEP 2: Hydrate
Apply plant therapy to your skin with Janesce botanical mists, serums or concentrates.
Follow with our Hydrating Floral Mists to refresh and soften. After soaking the skin, or applying your conditioning concentrate, spray your mist onto the still-damp skin, providing it with a soothing and hydrating boost while the gentle floral and plant extracts help to condition the skin and maintain its natural healthy balance. This hydration process eliminates the need for toners. Your skin is being conditioned gently by the plant extracts and the benefits of hydration. Your skin will feel soft, clear and healthy.
STEP 3: Restore
Application of a restorative serum assists regeneration of cell growth and replenishes the skin. The benefits of the "wet the skin" phase are preserved with the immediate application of a serum.
The Janesce conditioning Herbal Concentrates also encourage direct skin hydration and maximise your skin's ability to absorb the plant's active ingredients, supporting your natural protection. Each concentrate will have different properties and a different purpose. For maximum results apply after soaking on damp skin. The concentrates absorb quickly in to the lower layers of the skin to correct any imbalance and support healthy skin function.
'LOCK IT IN'
Application of your moisturiser while the skin is damp 'locks in' the humidity therefore aiding deep, effective skin hydration to keep your skin feeling soft and velvety throughout the day.
STEP 4: Moisturise
Immediately apply a Janesce moisturiser or facial oil to seal in all that botanically-enriched hydration.
While the skin is still damp with the liquid herb extracts and serum, apply a small amount of moisturiser. Also by applying a moisturiser while the skin is damp means that less product is required to cover the area and the absorption is quicker. For this reason all Janesce moisturisers are concentrated and so a little goes a long way. The complex blends of many organic plant extracts in each product gives your skin the nutrients and support it needs to keep it healthy and slow the ageing process.